Automatic sliding doors not only add to your buildings curb appeal, but they also improve accessibility, protect against inclement weather, and offer increased security. They are designed to be used in industrial, commercial, cleanrooms, healthcare, and retail applications. Typical configurations are Bi-Parting, Single Slide, Telescoping and they can be activated by motion sensors, card readers, keypads, remotes, or push plates. Lead lined, Blast, All Glass, Smoke Rated and Hurricane Automatic Sliding doors are available.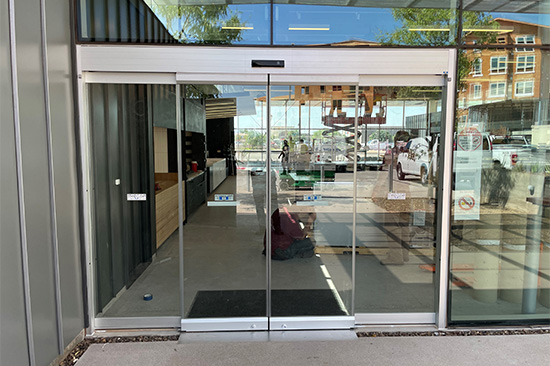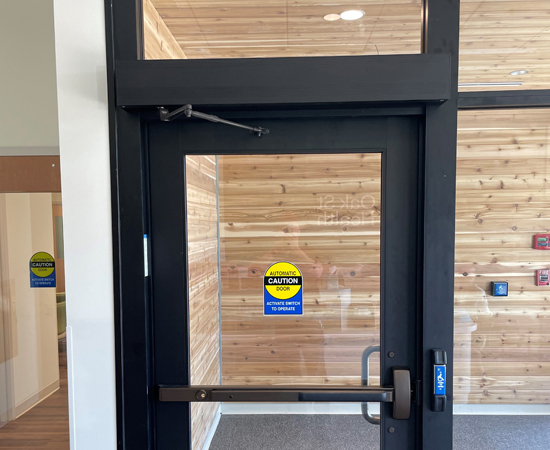 Automatic Swing Door Operators
Automatic Operators offer accessibility and convenience for Customers who have disabilities and the elderly. They also offer a hands-free solution to slow the spread of germs or viruses. These are typically used in Schools, Hospitals, Senior Homes, retail, and industrial applications. Power operators fall under 2 primary classifications- Low Energy ANSI 156.19 and High Energy ANSI 156.10. Low Energy operators us push plates or touchless switches for activation and the doors move at a lower rate of speed. In contrast, High Energy Operators use motion sensor activation, and the doors move at a higher rate of speed. Therefore, they require additional guide rails and safety sensors. Mounting options for Automatic Operators are surface applied, overhead concealed and in the ground.
ICU/CCU Doors are used in Hospital Environments and come in Sliding, Swing, Folding, Barn Door, and a Hybrid Swing/Fold design. The doors break open to allow for a large clear opening to easily move beds and other equipment in and out of the room. Options include Smoke Rated, Integral Blinds, Acoustic, Self-Closing and Airborne Infection Doors. (Isolation Doors)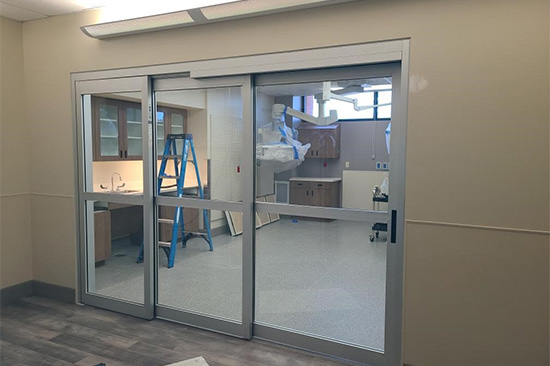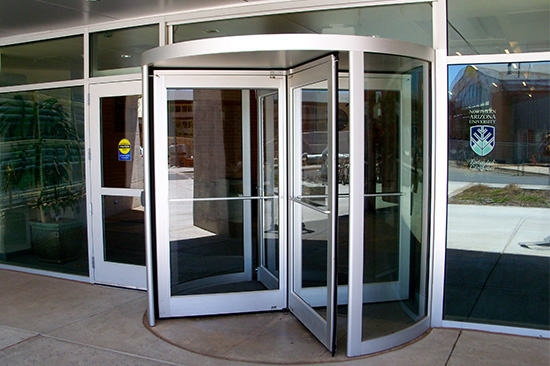 Revolving Doors increase the architectural appeal, energy efficiency, and accessibility to your building. Studies show that Revolving doors are the most energy-efficient entrance solutions available today. The always open, always closed principle of a revolving door ensures that conditioned air stays inside, and the unconditioned air remains separated, preventing draft, dust and noise coming into the building. The 3 main categories of Revolving Doors are Manual, Automatic and Security.
Folding Doors are ideal for narrow spaces that require a wide opening. These come in both a manual and automatic configuration and feature emergency breakout. These are governed by the ANSI 156.10 standards and require guide rails when fully automatic. These come in either a 2 or 4 panel design.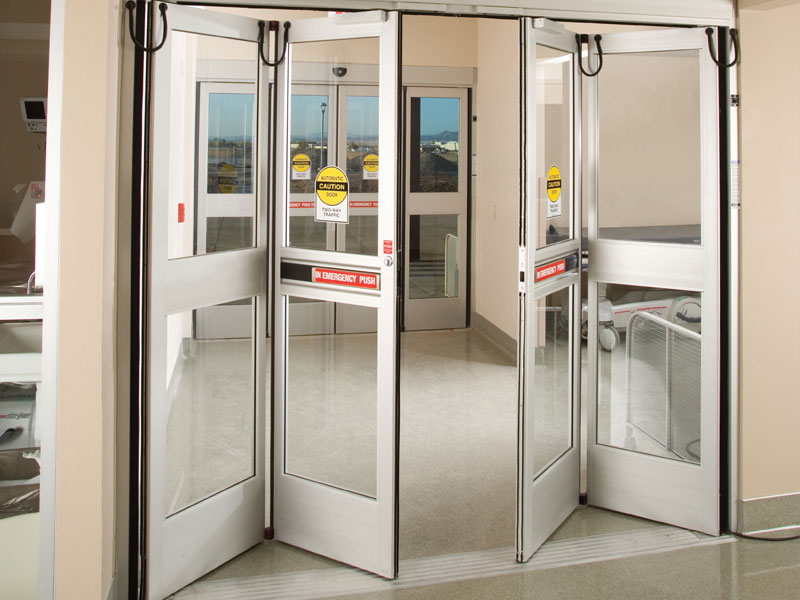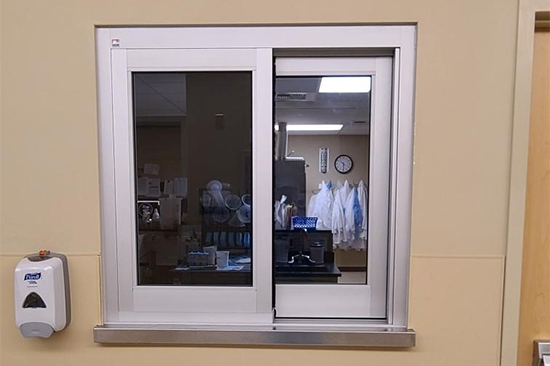 Drive Thru/Transaction Windows
Drive Thru/Transaction windows come in both manual and automatic configurations. These windows are used in Banks, Pharmacies, Schools, Restaurants, Concessions, Hospitals, and many other places. There are both standard locking and high security models that are designed to keep your staff and property safe and secure.
The Secure Exit Lane (SEL) system provides one way pedestrian traffic flow between the secure and non-secure zone. The breach control secure exit lane system uses an array of sensors to detect unauthorized traffic from accessing a secure zone. This eliminates the need for physical personnel by providing remote monitoring capability.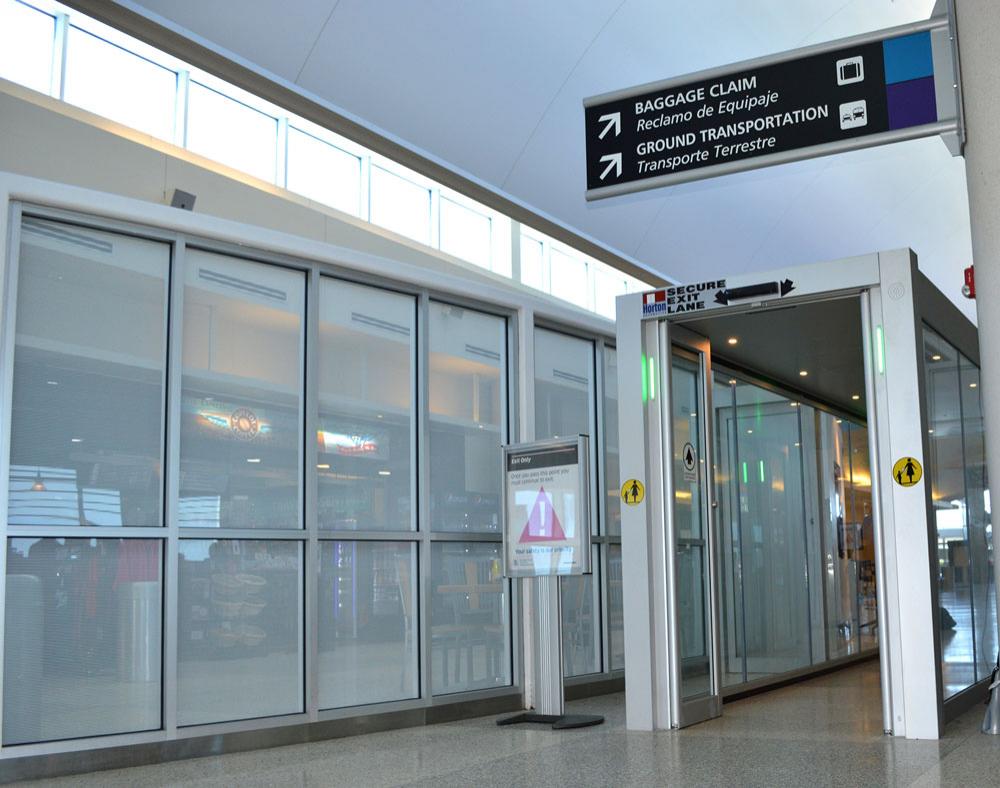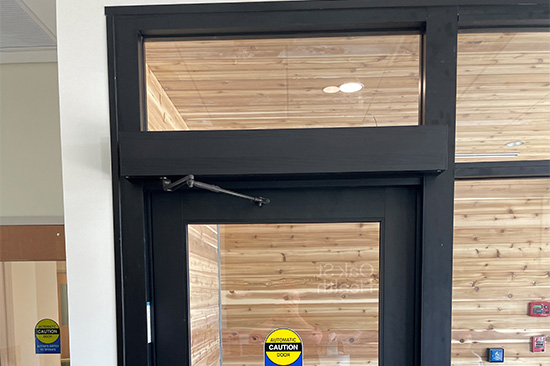 Power Operators fall under 2 primary classifications- Low Energy ANSI 156.19 and High Energy 156.10. Low energy operators use push plates for activation, and they move at a lower rate of speed. In contrast, High Energy Operators use motion sensor activation and move at a high rate of speed which requires guide rails and safety sensors. The mounting options are Surface Applied, Overhead Concealed and in the Ground.